Posts

966

Joined

Last visited

Days Won

4
Rivertown Rider's Achievements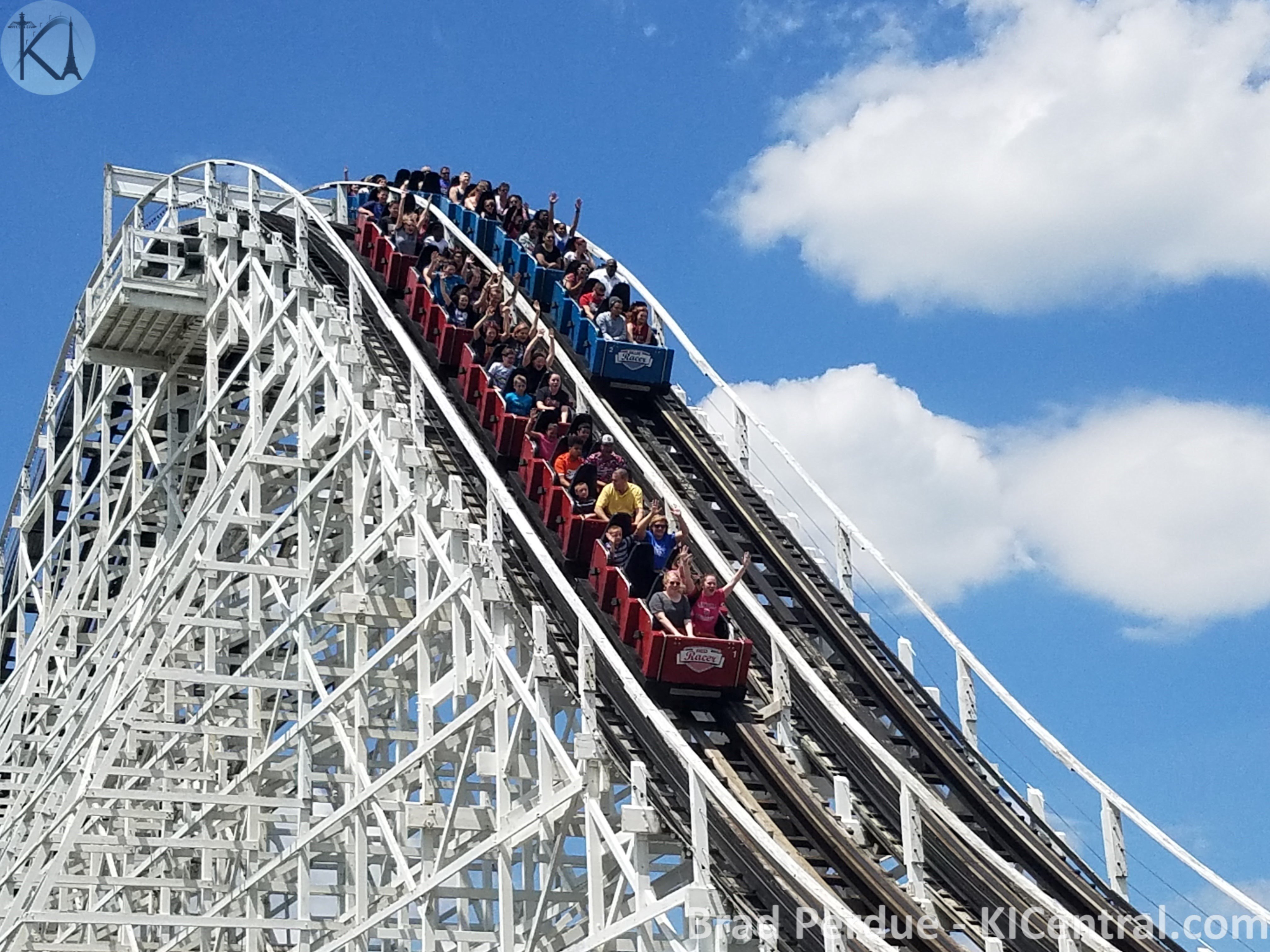 KIC Senior (6/13)
I agree that I don't see us getting Psycho Mouse. When CGA closes, I think Psycho Mouse will become a parts donor to the same models at Valleyfair and Michigan's Adventure. I could eventually see us getting one of the Zamperla Wild Mouse models though. You could easily theme it to Bavarian Beetle.

Initially I had thought that they were painting the building brown but after I have looked at this more on a bigger screen, it almost looks like it is a new hole in the building as opposed to brown paint so it looks to be lighting from inside the building causing it to look brown. If it is a new hole, could they be putting in glass and turning that building into a ride operator's building or something else as the spot in the builiding in question looks well framed/sized. This spot wasn't earmarked for anything in the original concept art.

The Mystic Timbers notice doesn't look like it was filed until August 18, 2016 which would have been well after clearing had started so I think there is a still a chance we could see another notice later this year for 2023 and 2024 modifications. I could easily see the coaster not coming until '25 because Carowinds, Wonderland (I'm not counting the family coaster they are getting this year), and Knott's all received their last coaster installation before we got Orion. With CF's focus on WOF this year, potentially Dorney next year, one would think Valleyfair is due something as well in the next couple of years (although I could see them getting Railblazer eventually when CGA closes). I will be very curious to see what is going on with the Timberwolf site and if anything happens with the old Son of Beast station. I know a lot of people think The Vortex site is the most likely area but I think that Action Zone needs it more than The Vortex spot does. AZ still has a lot of the Paramount feel to it (aside from Banshee and it's plaza area). Getting rid of Timberwolf and the SOB station would allow them to potentially build a shorter path to The Bat and an additional coaster would cause people to stay in that area of the park longer (which takes some strain off Rivertown and Area 72). With them taking out the other three upcharge attractions (the old Go Karts, Dinos, and Slingshot) it isn't that crazy to think of Skyflyer going as well since it is nearing 30 years of age. With Adventure Port being added there are finally some family rides in that area of the park besides VF, Congo, and The Bat but Action Zone needs some love and re-theme in the worst way. As far as the coaster type I do love the idea of a Mack ride likes Time Traveler or Copperhead. They both have the same capacity but a Time Traveler like ride would give the park a unique type ride and the spinning isn't super intense. A different manufacturer gives a different feel since they have lost some manufacturer uniqueness with Firehawk and Vortex leaving. I know other places have mentioned a Velocicoaster type ride but I don't know that CF wants to work with Intamin anymore. But any of those ride types (TT, CS, or Veloci) would be fantastic additions to the park. As far as B&M you can't discount that CSF is closer to KI than anywhere else and B&Ms are super popular (both here and elsewhere).

Hershey has removed their Whip. It will be interesting to see if it ends up being sold somewhere else.

Cargo Loco construction is moving along.

The Windstarz planning plans have now been approved. The building permit is now in processing. There still hasn't been word on what is getting removed.

It looks like they are working again in front of the games building behind Marketplace as well inaddition to behind.

I was thinking more about the potential ride removal in the California's Great America thread and it got me to thinking more about the Adventure Port concept art and the land movement that we can see from the live web cam. In the original concept art the two trailers behind the Coke Marketplace were still there and they have recently been removed (they look to be the trailers currently in front of the basketball game on the webcam. When looking at the webcam and with the land movement last week, it does make me wonder if something else is coming. Looking at the concept art it appears that the exit from Adventure Express will be staying the same (while the entrance queue as noted in the press release is changing). Doing the measurements online thru Google Earth, Berserker (a Bayern Kurve), Centifuge (a Schwarzkopf Calypso), and Peanuts Pirates (a Huss Breakdance 4) would each fit in that space. Of the three, Centrifuge probably makes the least sense since it has a very similar ride experience to Cargo Loco being just a short walk away, but the other two make a ton of sense. As we know KI likes nostalgia and Cargo Loco and Sol Spin are sort of spiritual successors to Der Spinnin' Keggers and Skylab respectively. The original Bayern Kurve was roughly where Delirium's queue is now so Berserker would be a great fit in that spot. From the Google Maps image below, if you started behind the basketball game to about halfway across the old ladder game, you can get one of those rides to fit. Will it happen? I don't know but it is curious that the permit for the ride addition (of Windstarz)/ and subsequent ride removal at CGA was just published on January 12 and the ground movement at KI for that section was taking place right around the same time.

According to the Santa Clara Permit Center, CGA is planning to install a Zamperla Windstarz ride. https://aca-prod.accela.com/SANTACLARA/Cap/CapHome.aspx?module=Planning&TabName=Planning&TabList=Home|0|Building|1|Fire|2|Planning|3|PublicWorks|4|CodeEnforcement|5|Services|6|CurrentTabIndex|3 The Parcel number is 104-42-019 (you can search under the planning section). In the description it says "Modification to existing ride to replace with a new ride, "Windstarz" including improvements of ride installation, new fencing, shade structure and electrical routing ad other supporting site improvements." It will be interesting to see what ride is replaced and if that ride is relocated anywhere. Several of the CGA flats would fit in well at KI like Bayern Kurve, Centrifuge, and Peanuts Pirates. All of these could easily fit in the Adventure Port area (either behind the Coke Marketplace or the other area would be between the Age and Weight stand and Festhaus) and be re-themed pretty easily to that theme as well. KI's original Bayern Kurve was originally in that area of the park.

I received my copy of the book in the mail today. Excellent job Barry Hill and @Shaggy! It was great seeing so many rare photos especially of a lot of the defunct rides from the 70s and 80s. A wonderful companion to @KIghostguy's book.

Definitely agree with a lot of what has been said. There are plenty of places in the park they can use existing land more efficiently. Using the Timberwolf spot or the Invertigo spot for a new coaster would be a much better use of that land. There is also the big tan box spot as well in addition to The Vortex spot.

I would expect Invertigo to leave before The Bat would. It seems like it has the most downtime of any of the coasters and it has bad efficiency because of its design. Also the Invertigo area being flatter would be easier and likely cheaper from a future construction standpoint.

Flying Ace is getting some painting done.