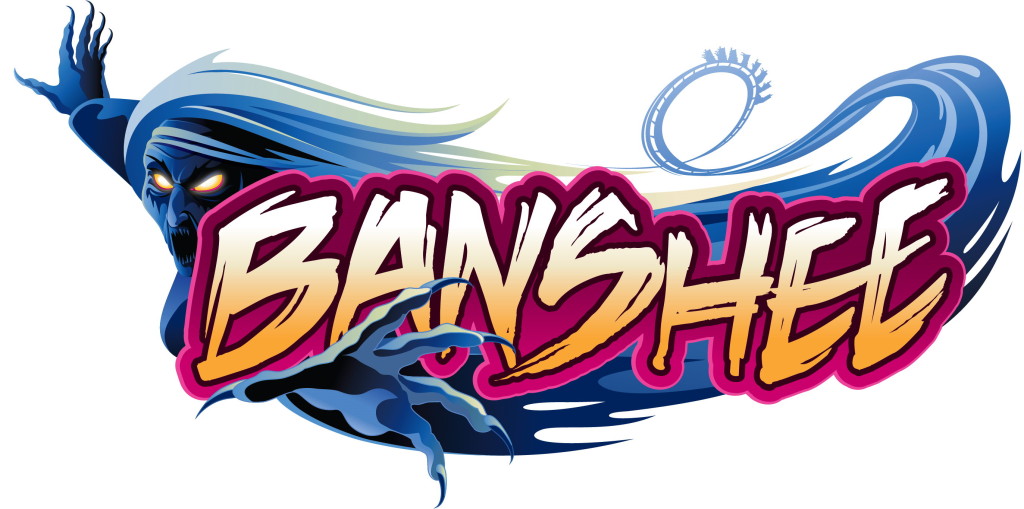 Opened: April 2014
Announced: August 8th, 2013 at 10pm in the Action Zone
Cost: $24 million, at the time, the largest single investment in park history.
Maximum Height: 167 feet
Height of Tallest Drop: 150 feet
Top Speed: 68 mph
Track Length: 4,124.1 feet, the longest inverted coaster in the world
Trains: 3
Passengers: 32 passengers per train, seated four to a row with eight rows.
Inversions: 7, dive loop, vertical loop, zero-g roll, batwing (two inversions), vertical loop, and heartline roll.
Ride Design: Bolliger and Mabillard (B&M)
Ride Manufacturer: Clermont Steel Fabricators in Batavia, Ohio
Ride Erection: Adena Corporation
Station Design: Tony Ravagnani Architects
Theoretical Hourly Capacity: 1,650 people her hour.
Location: Action Zone
Ridership: Banshee has given more than 9.5 million rides since opening. Its record year was 2014, when 2 million rides were given.  (Numbers through 2019 season)
Miscellaneous: There is 208 feet of elevation change in the track from the top of the lift hill to the lowest portion of track on the ride.  This ride is the fastest B&M inverted coaster in the world.  It is also tied for the most inversion on an inverted coaster with (7) Montu at Busch Gardens Williamsburg
Banshee Teaser video:
Banshee Construction
Banshee Media Day
Pictures