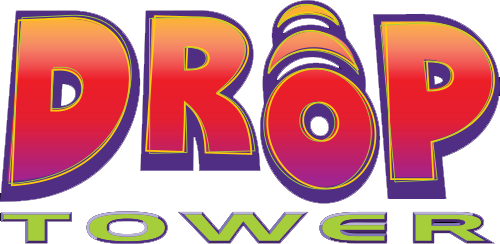 Name: Drop Tower
Former Name: (1999-2007) Drop Zone Stunt Tower
Built in: 1999
Height of Tower: 315 feet
Height of Drop: 264 feet
Ride Time: 88 seconds
Number of Seats: 40 outward facing seats
Maximum Speed: 67 mph
Hourly Capacity: 550 people per hour
Manufactured by: Intamin AG of Zurich, Switzerland
Location: Action Zone
Ridership: 5,787,377 riders since 1999, 31st most in park history.  Its record year was 2001 with 623,905 riders.  (Numbers through the 2009 season).
Foundation: Stephen Schaefer Associates, Inc. designed the foundation utilizing a 700 cubic yard reinforced concrete pile cap supported on sixteen H-pile sections driven 90 feet deep to bedrock.
World Records:         -Drop Zone opened as the world`s tallest Gyro Drop (PKD`s Drop Zone now holds the record by an additional 8 feet.)
Miscellaneous:  Drop Zone was built as the world`s tallest gyro drop.  Inside the tower, there is a small, 2 man, 2 meter maintenance elevator to access the top.  The top of the tower, which houses all of the lifting equipment, weighs 60 tons.
Photos