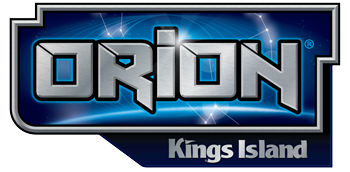 Opened: July 2nd, 2020 (Covid-19 delayed the park opening from April 11th, Orion's original scheduled opening day.)
Announced: August 15th, 2019 at 10pm in the then X-Base
Cost: Not announced, but guessed around $30 million,  the largest single investment in park history
Maximum Height: 287 feet at an 85-degree angle
Height of Tallest Drop: 300 feet
Top Speed: 91 mph
Track Length: 5,321 feet
Trains: 3
Materials:  160 truckloads of steel, 4,000 gallons of paint and 16,000 high strength bolts.
Passengers: 32 passengers per train, seated four to a row with eight rows.
Inversions: none
Special Element:  125-foot helix
Ride Design: Bolliger and Mabillard (B&M)
Ride Manufacturer: Clermont Steel Fabricators in Batavia, Ohio
Station Design: Tony Ravagnani Architects
Theoretical Hourly Capacity: 1,650 people her hour.
Location: Area 72
Layout: Orion Photo Gallery
Orion First Rider event
Construction Photos
Announcement Day
KICentral Video
Official POV
How the ride was introduced at the announcement.
POV Animation
Off Ride POV Animation