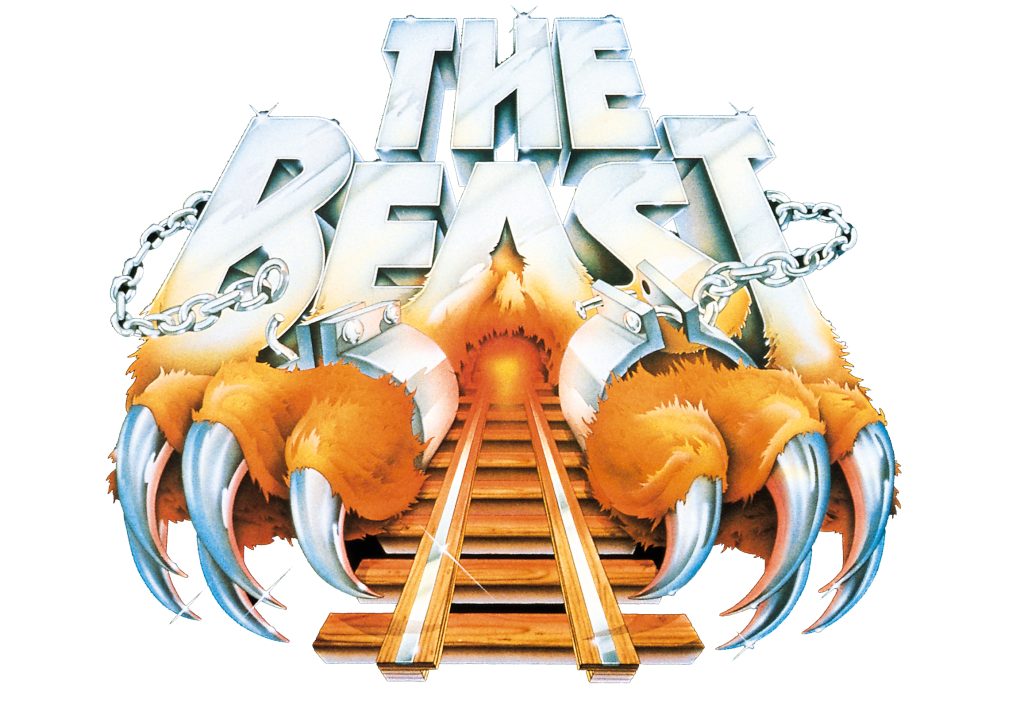 Announced on: July 10, 1978
Officially Named: Feb 6, 1979
Opened: April 14, 1979 (a stretch of tunnel was added in 1980)
Cost: $4 million
Type: Wooden terrain coaster
Track Length: 7,361 feet
Height:      1st Lift Height: 110'
                   1st Hill- 135 feet          Angle of Drop- 45 degrees
2nd Hill- 63 feet           Angle of Drop- 32 degrees
2nd Lift Hill- 141 feet  Angle of Drop- 18 degrees
Maximum Speed: 64.7 miles per hour
Time of Ride: 4 minutes, 50 seconds
Designed by: Al Collins and Jeff Gramke
Constructed by: Charlie Dinn and the Kings Island Construction Co.  Construction and planning took three years.
Tunnels:    1st– 125 feet long, 18 feet underground
2nd– 269 feet long
3rd– 628 feet long, 540-degree tunnel with 1 1/2 revolutions
Total feet in Tunnels: 1,022 feet
Trains:  3 trains, each weighing 2,700 pounds.  Each train consists of 6 PTC cars, each sitting six people for a total of 36 people per train.  Originally, the Beast had trains made of five, four row PTC cars, but they replaced them with the current three row models to early on to ease the maintenance on the track.  Each train has traveled more than 5 million miles or the equivalent of more than 20 times around the world.
Area Ride Covers: 35 densely wooded acres
Materials: 650,000 board feet of Southern Pine stained in a Redwood finish. 37.500 pound of nails, 82,480 bolts and 5,180 washers were used to build The Beast.  The Beast sits on 2,432 square yards of concrete.
Capacity per hour: 1,200 people per hour
Location: Rivertown
Ridership: Over 57,200,000 riders since 1979, third most in park history behind the Racer and K.I. & Miami Valley Railroad.
Its record year was 1980 with 2,150,353 rides logged.  The record day was July 17, 1981 with 20,885 riders.  The record hour was 1,680 on June 15th, 1980. (Numbers are through 2022 season).
World Records:         -The Beast has been listed in the Guinness Book of World Records on April 5th, 1980 for being the World`s longest wooden coaster. When it opened, it was also the tallest and fastest wooden roller coaster. To this day, it is still the longest wooden coaster in the United States.
Miscellaneous: The first lift hill sends riders into an underground tunnel created in a natural gorge.  The Beast was designed around the landscape to save as many trees as possible.  The ride was officially, and quite appropriately, "unchained" in a steady downpour Friday, April 13, 1979 for hundreds of media representatives from around the U.S. and Great Britain. The following individuals climbed about the gleaming red coaster cars for the first official ride:
– Charles S. Mechem, Jr., Chairman of the Board, Taft Broadcasting Company
– Dudley S. Taft, President, Taft Broadcasting Company
– Gary S. Wachs, Executive V.P., Amusement Park Group, Taft Broadcasting Company
– Charles Flatt, V.P. Construction & Engineering, Amusement Park Group, Taft Broadcasting
– William C. Price, Vice President & General Manager, Kings Island
– Frank Thompson, Operations Director
– Walt Davis, Director of Park Services
– Charles Dinn, Director of Construction, Maintenance & Engineering
– Bill Reed, Director of Rides
– David Palmer, Director of Marketing
– Dick Fussner, Director of Loss Prevention
– Chris Schaffer, Controller
– Al Collins, Resident Engineer
– Jeff Gramke, Assistant Engineer
– Jimmie Nickell, Assistant Director of Construction, Maintenance & Engineering
– Charles Swing, Maintenance Manager
– Charles Wright, Carpenter Foreman
Cool Info:
By the time workmen had completed the massive Beast construction in March of 1979, they had used 650,000 board feet of southern pine lumber; 37,500 pounds of nails; 82,480 bolts and washers and 2,432 square yards of concrete.
Each of The Beast trains have traveled more than 1,000,000 miles.
Record-breaking features include a 7,361-foot long track (1.4 miles) and ride time of four minutes, 10 seconds; vertical drops of 137 feet (now at a 53-degree angle) and 141 feet (at an 18-degree angle); a 125-foot long underground tunnel at the bottom of the 137-foot drop; eight banked turns, some to 45 degrees; a massive, 540-degree helix tunnel near the end and speeds up to 64.77 miles per hour.
Members of the Kings Island maintenance department walk every inch of The Beast track every morning before the park opens. It's a nearly four-hour trip they start at 5 a.m.
The Beast has three tunnels: The first is 125 feet; the second is 269 feet and the third is 628 feet, for a total of 1,022 feet of darkness.
It would cost over $20 million to build The Beast today.
The Beast was constructed in less than a year, after two years of research and design – all by Kings Island personnel. Al Collins and Jeff Gramke were the chief designers of the ride.
The original design was modified multiple times, so many times in fact that the finished product looked nothing like the one envisioned when the project began in 1976.
 In November of 2021 crews began the massive project of refurbishing 2,000 feet of the coaster's track. In addition, the first drop has been re-profiled from 45 degrees to 53 degrees so that it can come into the tunnel lower and deliver a buttery-smooth transition through the first tunnel and onto the second drop. Due to this work The Beast lengthened by 2 feet from 7,359 ft. to 7,361 ft.
Coaster enthusiasts consider The Beast a "terrain coaster." That refers to the way it follows the contours of the land, using the hills and gulleys to add height to the ride.
The Beast's 25th anniversary logo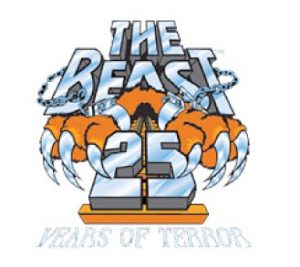 Other Interesting Facts:
The Beast had four trains, but never operated with four. The capacity was greater with three. The fourth train was used, but maintenance rotated it through. One of the four trains that sat out was worked on during the day so maintenance only had to work on two trains overnight for the next day of operations.
Ruth Voss (the PR Manager at the time) was given a Beast seat when she retired in September 1989.
The Beast Construction
The Beast's 40th
Photos