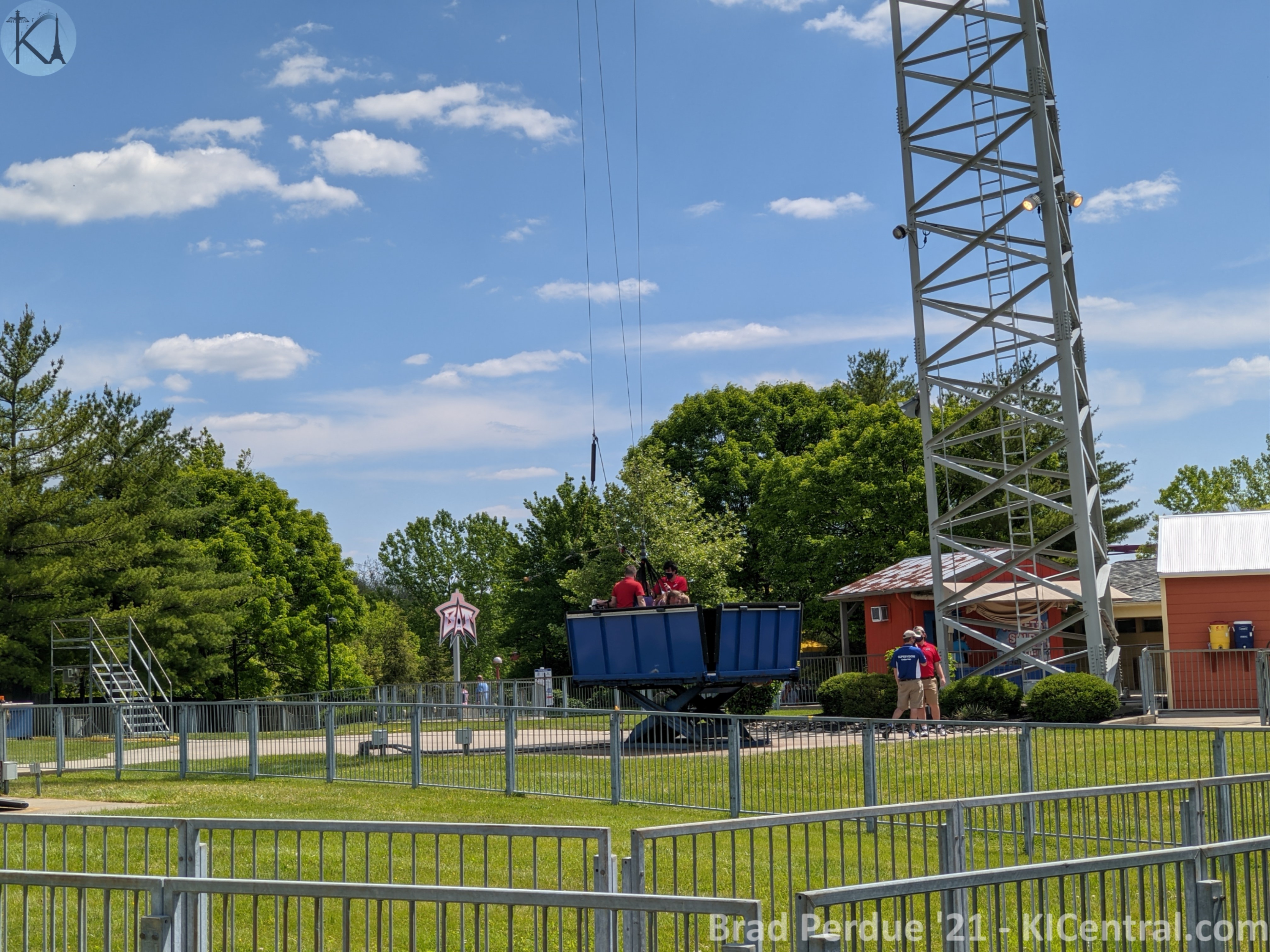 Opened: 1995
Location: Action Zone
Former Names: Drop Zone (1995)
Manufacturer: Sky Fun 1
Model: Skycoaster
Height: 153 feet or 164 feet (sources differ)
Speed: Up to 60mph
Vehicles: One to three riders per side at a time; two sides
Description: Xtreme Skyflyer is a large upcharge thrill ride that combines the sensations of skydiving and flying. Riders are "suited up" in unique harnesses before being slowly lifted up to one of two towers, then pull a ripcord to begin their descent. After the initial drop, riders swing back-and-forth like a pendulum before dissipating energy and being lowered back to the ground.
History: Xtreme Skyflyer opened in 1995 as Drop Zone, named after the Paramount film of the same name. The attraction included some minor theming that identified the area as a jump zone. The ticket booth was a re-purposed soft drink stand.
The ride's initial name only lasted one season before becoming Xtreme Skyflyer in 1996. A sign appeared in Coney Mall that summer, saying it was the "Future Site of New Attraction Dropping in Next Summer!". Rumors are that a freefall, likely to recycle the Drop Zone name, would open in that area, and the upcharge thrill ride across the park was renamed Xtreme Skyflyer to open up that name. The freefall did not open in that spot in 1997, but Drop Zone: Stunt Tower (today known as Drop Tower) did open adjacent to Xtreme Skyflyer in 1999.
Xtreme Skyflyer has remained relatively unchanged during its run at Kings Island, although the attraction was repainted a light gray in 2014 alongside a general overhaul of Action Zone's rides.
The ride included an optional on-ride video at one point, with an employee filming guests as they rode. The offering was discontinued in 2016.
Photos