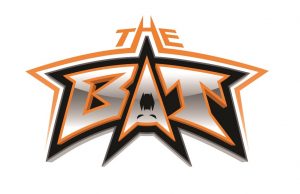 Name:  The Bat (2014-present)
Former Names:  Top Gun (1993-2007) –  Flight Deck (2008-2013)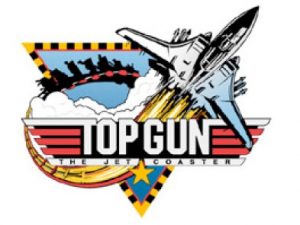 Opened: April 9, 1993
Type: Steel suspended coaster
Track Length: 2,352 feet
Height: 98 feet
Maximum Speed: 51 miles per hour
Time of Ride: 1 minute, 45 seconds
Cost: $5 million
Area Ride Covers: 3.5 acres
Designed and Manufactured by: Arrow Dynamics
Tons of Steel: 600
Amount of Concrete: 2,000 yards
Trains: 2 trains, seven cars per train, 4 people per car for a capacity of 28 people per train.
Hourly Capacity: 1,400 people per hour
Location: Action Zone
Ridership: Flight Deck has given 17,742,393 rides since 1993, the 17th-most in park history. Its record year was 1993, when 1,527,492 rides were given. (Numbers through the 2009 season)
Miscellaneous: Footers for the ride vary in diameter from 30 inches to 5 feet.  Some of the deepest footers are fifty feet deep.  The station is themed to be an aircraft carrier.  John DeCuir designed the theming.  He was the production designer for the motion picture Top Gun.  Top Gun was renamed Flight Deck for the 2008 season.  With the addition of Banshee next door in 2014, the park repainted the ride with orange track, and renamed it The Bat, in honor of the first suspended coaster in the world, which operated at the park from 1981-1984.
Pictures
The original Bat which opened in 1981 and closed in 1983.